In July, my husband and I somewhat spontaneously decided to book a week's holiday to Portugal with our baby, Ailbe. (And our mums roped in as reinforcement!) This felt like a huge step to take and I'm sure any new parents can appreciate that the idea of flying with a baby was daunting—even a trip to the supermarket resembles a full scale military operation these days. In our 7 years together, traveling has been a big part of our lives. Having a new baby does completely turn your world upside down, but we knew that if we didn't plan our first trip now while he's small, we would keep making excuses. So we put on our brave pants and booked the holiday for October, leaving us about 8 weeks to get sorted.
Knowing that we would be traveling with a lot of luggage and baby paraphernalia, a top priority for me was to find a compact and light travel stroller that I could also take onboard the plane. I know many people check their main pram into the plane hold with no problems, but I didn't feel comfortable doing this and had read some horror stories about expensive pram systems being damaged beyond use, with the airlines refusing to cover the costs of replacements. After some research, I saw the Bugaboo Ant was due to be released in the UK and would be available at Pramworld. Our main pram is a Bugaboo Fox and we LOVE it, so I knew we could trust them to deliver an excellent product. It definitely ticked the boxes of my most important requirements; it folds up super compact, fits in the cabin hold and it has a flat recline and seat facing options.
First Impressions
It felt like Christmas when I received the parcel from Pramworld, but I genuinely thought there should be more parts once I opened the boxes. I quickly realised that there hadn't been a mistake, the Ant really is that compact. The base/chassis and seat are pretty much fully built and you just fit the fabrics and wheels. It was very easy and I watched the handy video here because, like many of us, I prefer a visual tutorial to reading pages of instructions. Bugaboo has these handy videos for most of their products which is helpful.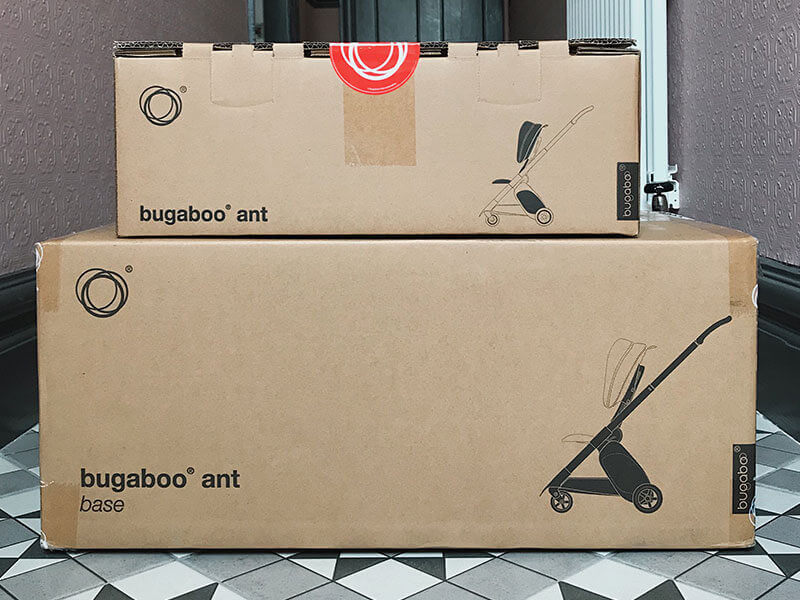 The chassis felt stable and strong and I loved the adjustable handlebar height, which enables you to pull the folded stroller behind you like you would a suitcase. We chose the Grey Melange fabric pack, as we prefer more neutral colours. The fabric is excellent quality and feels luxurious, yet is durable and machine washable.
Another big plus for me is that the seat can be parent-facing or world-facing. I personally feel that Ailbe is too small to face outwards at this point and I know he is more content when he can see me or his dad, so this really stood out to me as a great feature. To change the seat direction, you simply slide it up and pop it off and switch it around. It's almost seamless.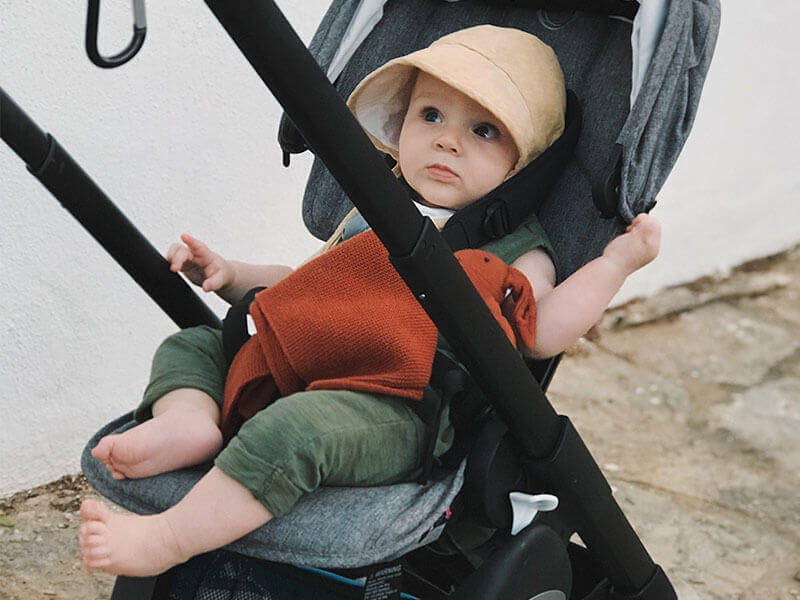 Let's Talk Features
Compact & foldable to one piece
Height adjustable backrest & handlebar
Parent facing & world facing
Fully reclinable seat, with 3 different positions
Pull along trolley mode
Suspension on all wheels
UPF50+ canopy
Storage basket holds 3kg
Lightweight at 7.2kg
Comfortably carries a child up to 22kg/50lbs
All accessories (rain cover, footmuff etc.) need to be purchased separately, which is the norm with Bugaboo. This can be seen as controversial due to the price point of Bugaboo products. They are definitely in the premium price bracket, but after having another premium pram brand to start with that wasn't a good fit, I think they're worth every penny. They also seem incredibly comfortable for little ones and have all the finer details taken care of. Bugaboo also uses recycled materials in their polyester fabrics.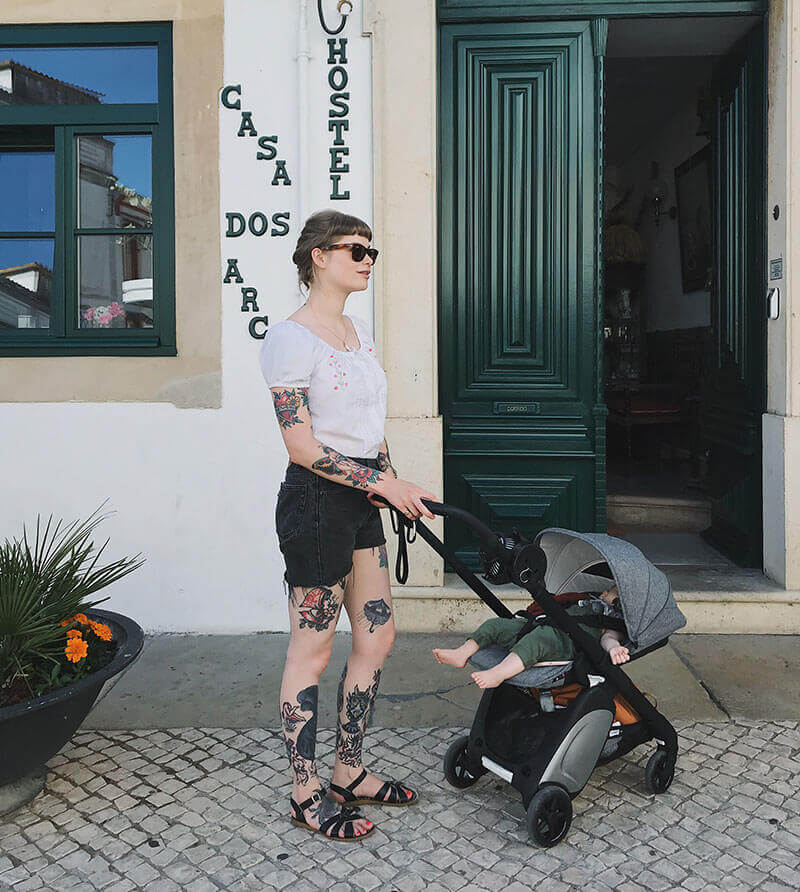 Something to note is that the Ant is not a one-handed fold like some of the other compact strollers on the market, but it is still very straightforward. We practiced a few times at home before and it was second nature by the time we jetted off.
Navigating the airport with the Ant was a breeze. It steers lightly and is so nimble, yet feels incredibly sturdy. Airport Security will ask you to fold any pram or stroller down as you go through so that they can scan it on the belt. However, I wasn't prepared for this on the way out and my husband and our mums had already gone through the metal detector so couldn't come back to hold the baby. Luckily, the security officer took pity on me and agreed to lift the pram over and simply swabbed it, then passed it back over once we were through. On the way home, we folded the Ant in advance of security and I was able to easily pull it along behind me while holding Ailbe. I say this to highlight that you will need an extra pair of hands when faced with holding a baby and folding the Bugaboo Ant down.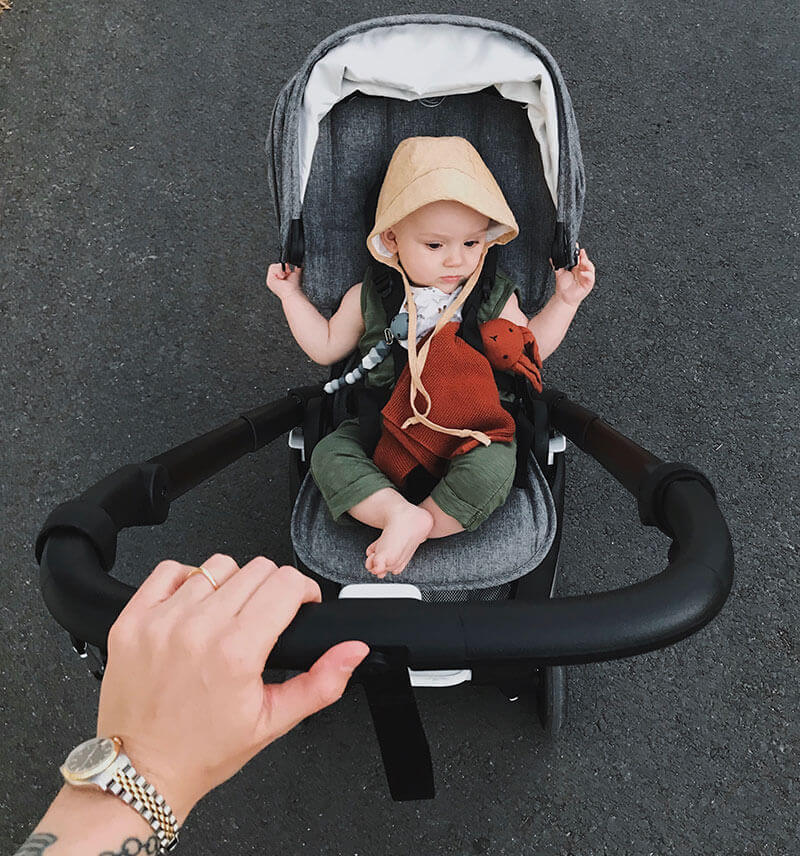 The Ant can go all the way up to the plane stairs/door and be folded down there to carry on. At just over 7kg, we had no difficulty carrying it or putting it into the overhead cabin storage on the plane and we did so smoothly with no questions asked. I think this kind of compact equipment is becoming more common and recognised by airline staff. There's also a visible sticker on the side with the folded dimensions, so if you were questioned, you can just show that to staff. Useful when there's a language barrier, too! If you do have any doubts, always check ahead with your airline first for peace of mind.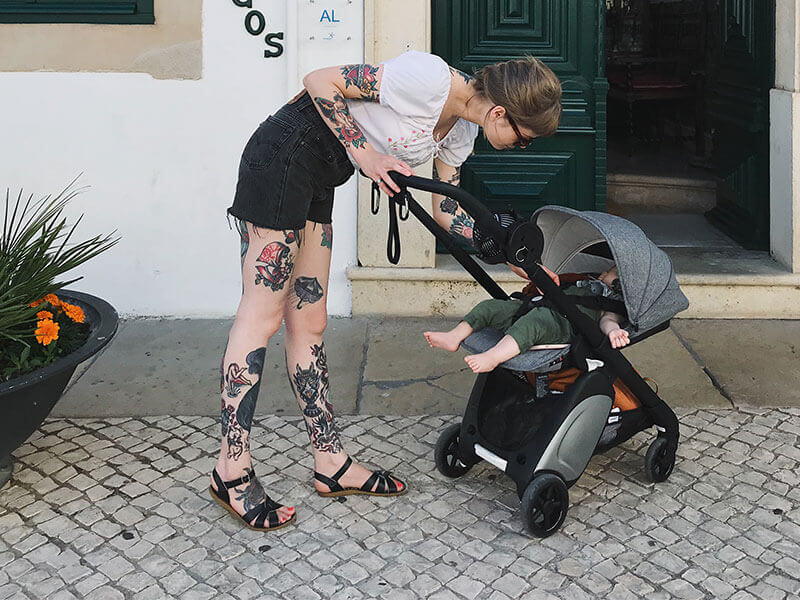 We were heading to sunny Albufeira in the Algarve. Now, my experience is that the pavements are mainly cobbled in Portugal. This can make for a bumpy ride, but we were all very impressed at how well the Ant handled the terrain. You can easily steer the stroller one-handed—ideal while you're eating your ice cream with the other! Ailbe napped on a particularly bumpy street in Albufeira's Old Town one day and, as you can see, he was pretty much completely flat. I had peace of mind knowing that he was comfortable and not bunched up when napping. The recline option also makes the stroller an economical compact option for newborns onwards, as no extra seat unit is needed (but Bugaboo does recommend using their Bee 5 Baby Cocoon with the Ant for babies 0-6 months). Considering that babies only need to lie flat for approximately the first 6 months, this keeps everything easy with no seat switching.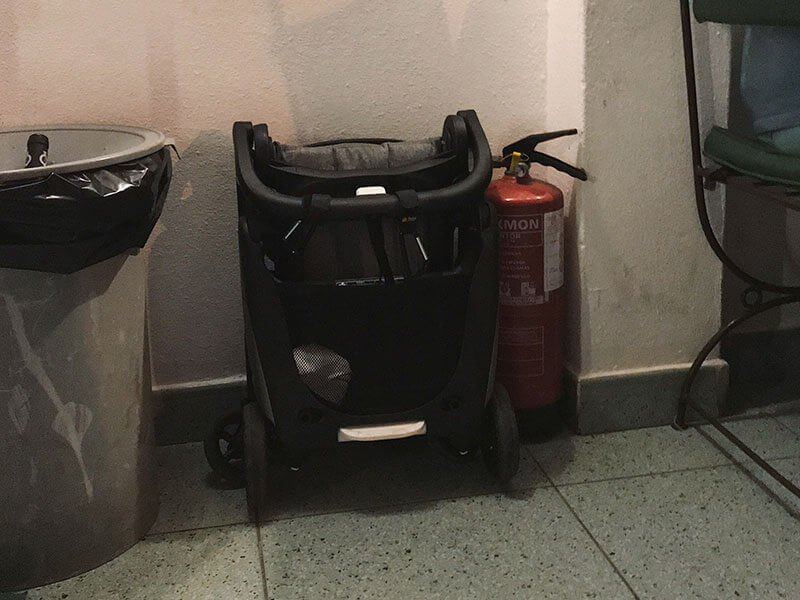 I found the hooded canopy gave Ailbe great coverage and I was at ease knowing that the fabric has a UV protection factor of 50+ (he was obviously lathered in suncream and kept out of direct sun). The hood on the Ant has the same feature of other Bugaboo models, whereby a handy zip can be opened to extend the hood further. This is great for naps or to shield baby from any type of weather.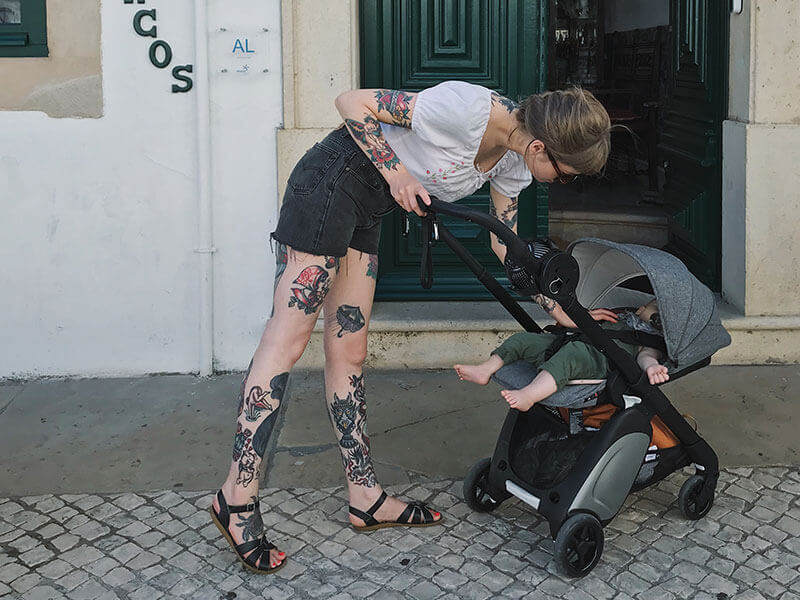 I think basket storage can be overlooked when it comes to travel strollers, which seems counterproductive. When you're traveling you need that space even more! The Ant surpasses expectations in this area and we were able to fit in a rucksack stuffed with Ailbe's things, a travel change mat, a ring sling, two 750ml metal water bottles, a bulky 35mm camera, a blanket and a cardigan. Safe to say there's plenty of storage.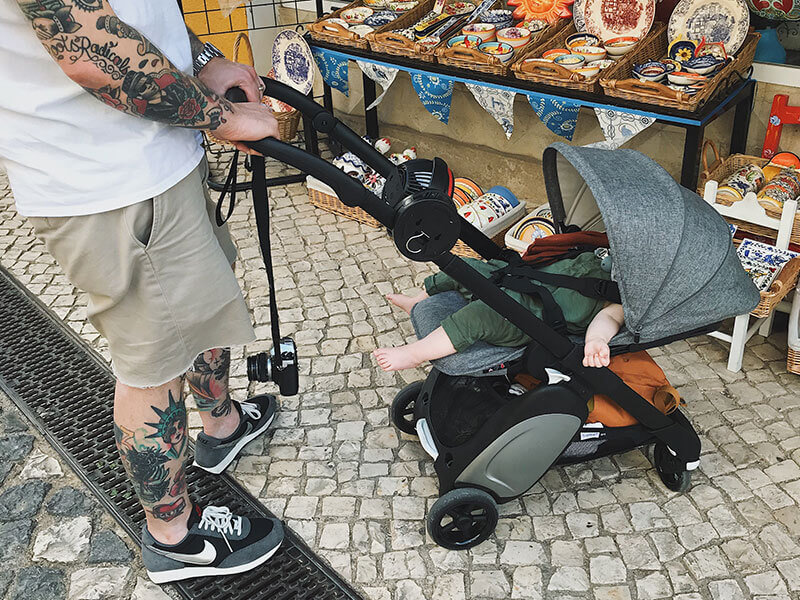 The Verdict
Overall, we are very pleased with the Bugaboo Ant as a travel stroller and it performed well in various situations, on multiple terrains. The baby seemed comfortable and content in the Ant and we will be using it as a lighter option at home when needed, as it's too useful to keep just for travel. It's a reliable and clever stroller with a sleek and minimal design. We had many a comment about its size, with one lady saying, "That's the smallest pram I've ever seen!".
The adjustable handlebar was great for comfort amongst 4 separate adults and the grandmas were really impressed with how light it was to push Ailbe around—they even took him off for a nap one afternoon. And by all accounts, it was very easy to park up while they had a glass of wine at a local bar…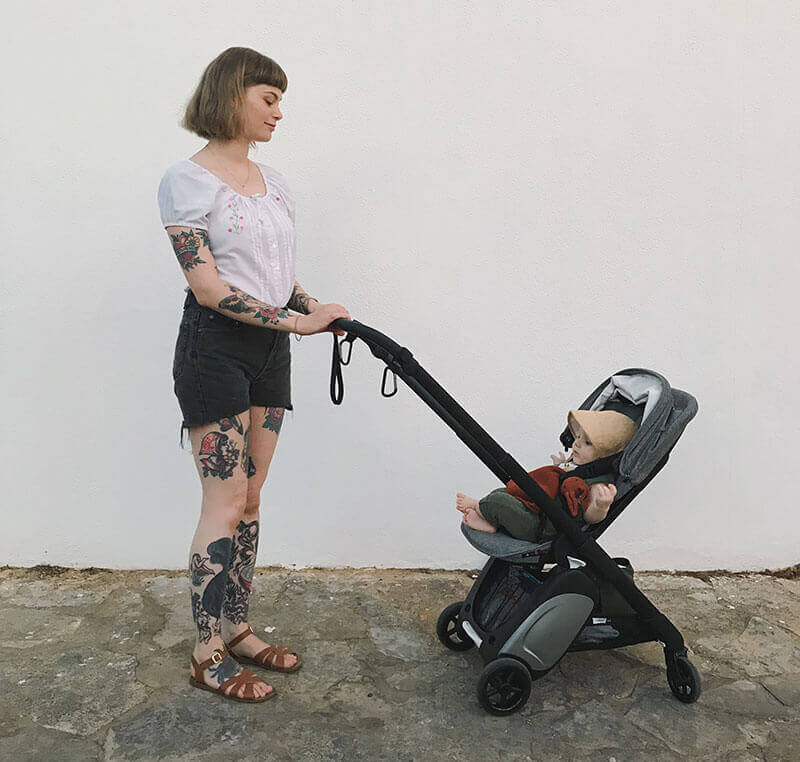 The best feature for me is absolutely the compact fold and how it fits on the plane with zero hassle. This really sets it apart from many other travel strollers and it made life much easier when traveling abroad with a 6 month old baby for the first time.
Price
With a base price of £499, there is no disputing that the Bugaboo Ant is a more premium option for a travel stroller, but I really do believe Bugaboo prams are worth the cost.
You can buy the Bugaboo Ant from Pramworld.co.uk here, with a choice of aluminium or black chassis and 5 different colour packs.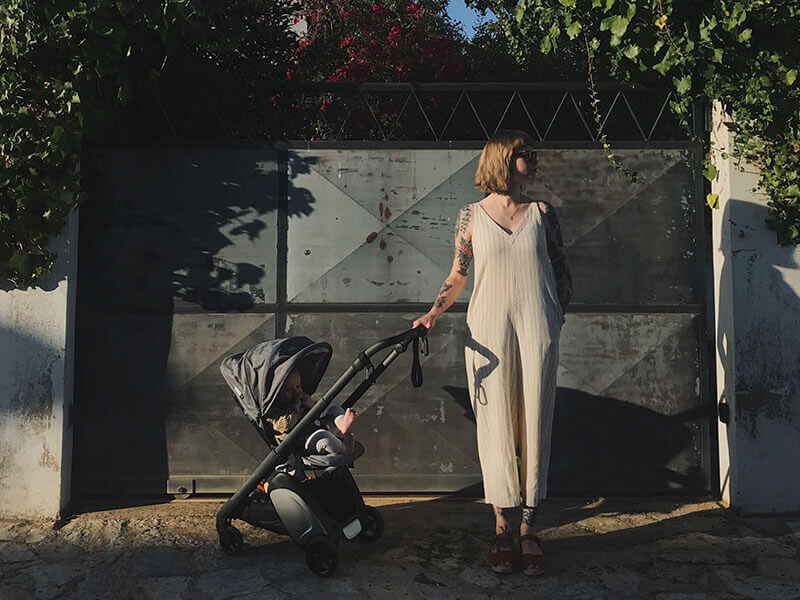 ---
---
← Back to the Blog