CAR SEAT BUYING GUIDE
Welcoming a new arrival into the world is an exciting time for every family. You want to make sure your child is as safe as possible when travelling by car, so it's vital to find a car seat that's suitable for their height and weight and fitted correctly in your vehicle.
As a parent you want to make sure your children get the best protection there is, so we've created a handy car seat guide to make finding the right seat a little easier and to clarify terms such as i-Size, Isofix and ERF. After all, your child's car seat will protect them in the event of the unexpected, making it one of the most important and worthwhile investments you'll make.
POINTS TO REMEMBER
Choose a car seat based on your child's height and weight and one that is compatible with your car
Weight-based car seats must be rear-facing until your child weighs more than 9kg
Height-based car seats are known as 'i-Size' seats and must be rear-facing until your child is over 15 months old
Children must use a car seat from birth until they're 12 years old or 135cm tall (whichever comes first)
Never use an infant carrier on the front passenger seat with the airbag activated
Only EU-approved child car seats can be used in the UK
Ensure you have an infant carrier for baby's first car ride home from the hospital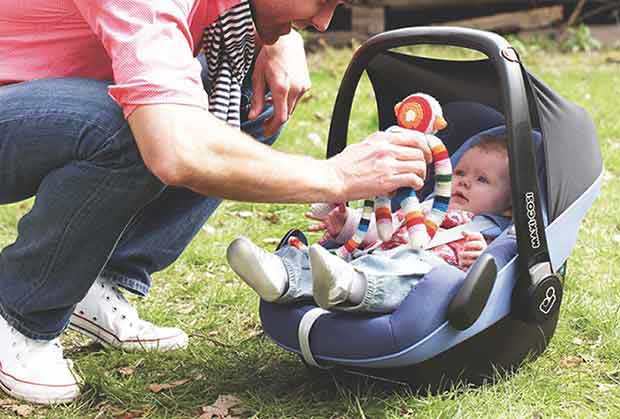 CAR SEAT GROUPS
| Car Seat Group | Baby's Weight | Baby's Age (Approx.) | Car Seat Type |
| --- | --- | --- | --- |
| Group 0 | 0 -10kg | Birth - 6 Months | Rear-facing infant carrier |
| Group 0+ | 0 -13kg | Birth - 12/15 Months | Rear-facing infant carrier |
| Group 0+/1 | 0 -18kg | Birth - 4 Years | Combination and rear-facing only |
| Group 1 | 9 -18kg | 9 months - 4 years | Combination and rear facing only |
| Group 1/2 | 9 -25kg | 9 months - 6 years | Forward-facing car seat |
| Group 1/2/3 | 9 - 36kg | 9 months - 11 years | High back booster with harness |
| Group 2/3 | 15-36kg | 4 years - 11 years | High back booster and booster cushions |
WHAT IS I-SIZE?
i-Size is the new European standard for child car seats. It was introduced in 2013 to ensure all child car seats fit in all cars, therefore reducing the risk of installing the wrong seat in your car and compromising its effectiveness. i-Size is considered safer because infants up to 15 months old must travel in rear facing car seats.
Rear-facing car seats offer superior protection for your child in the event of a frontal collision, which is the most common type of accident on the road. We believe children should be rearward-facing for as long as possible.
i-Size is considered safer because:
Children have improved head and neck protection due to the more rigorous side impact testing i-Size car seats are subject to
You have to use ISOFIX, a system that makes the car seat easy to fit correctly in the car. i-Size car seats will fit almost all ISOFIX cars
Length/height of child classification (instead of weight) makes choosing the right car seat easier
ISOFIX EXPLAINED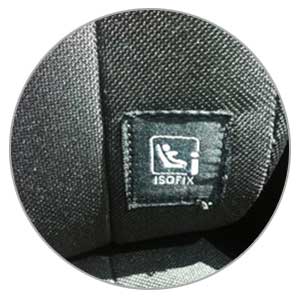 ISOFIX is a standard European fitting system that refers to the two metal bars that are welded directly onto your car's chassis. In some cars they are highly visible and in others they are concealed. The majority of infant carriers tend to fit in with a seat belt as well as ISOFIX, where as some car seats aren't ISOFIX compatible at all. In short, if your car seat has the option to fit in with a seat belt then you don't need an ISOFIX base.
An ISOFIX base is an attachment that's fitted directly to the ISOFIX mountings in your car. This allows you to safely install your child's car seat by simply clicking the car seat onto the base and lifting it off with either a lever or a button. It's easier and it's safer. Installing your seat using a base eliminates the chance of fitting the seat incorrectly. A survey carried out by Good Egg in 2014 found that 71% of seatbelt-installed seats tested in England were fitted incorrectly.
It's widely believed that incorrect car seat fitting is responsible for increased child road fatalities. If you have ISOFIX in your car we would recommend that you buy an ISOFIX fitting car seat where possible.
WHY REAR-FACING?

Did you know that frontal collisions are the most common car accidents and often the most severe? We believe the best way to protect your younger passengers from forceful frontal impacts is to keep them rear-facing in their car seat for as long as possible. It has been proven that travelling in a rear-facing car seat will greatly reduce the stress on your child's neck and spine, providing superior protection in the event of a frontal impact. Your baby's muscles are still developing during the early years; if the muscles and spine are subject to too great a force the consequences may be catastrophic.
The most essential difference between you and your baby is the size of the head. For a 5-month-old baby, the head represents 25% of their total body weight. For an adult the head represents only 6%. In a forward-facing seat during an impact, the child is flung forward in their seat with their head thrown towards their knees, placing considerable strain on their delicate neck, spine and upper body. In a rear-facing car seat during a frontal impact, the child is pushed back, impact is spread across the back of the seat, with considerably less flying debris coming into contact with the child.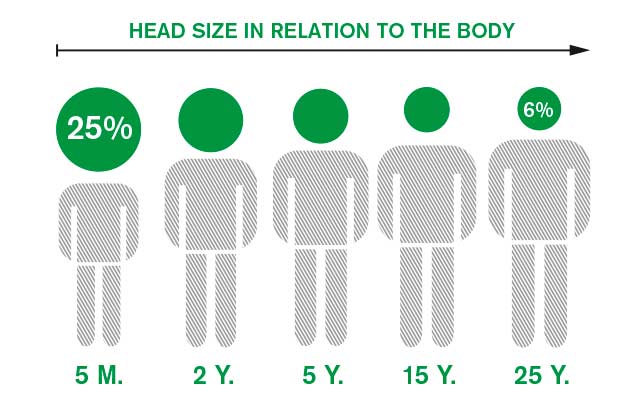 WHAT IS THE SWEDISH PLUS TEST?
Swedish plus test is the most stringent test for any car seat and the only test that measures the weight load on a child's neck. The test is not carried out in any other country, making it truly unique and an additional test to the standard.

The plus test is carried out by the Swedish VTI, an independant organisation who have no connection with any manufacturing of car seats or selling them. Because it is an extra test, child car seat manufacturers have to register for the test themselves, as it is not covered in the standard E approval (European Safety standard).
Click here to view our Swedish Plus Tested Approved Car Seats
WHY NOT BOOK AN APPOINTMENT WITH A SPECIALIST?
When shopping for a new car seat we believe it's imperative that you select one that's suitable for your child, compatible with your vehicle and has been correctly and professionally installed in your car. To give you complete peace of mind we'd recommend booking an in-store appointment with one of our car seat safety experts who'll not only help you select the right car seat for your needs but install it correctly in your vehicle. To learn more about booking an appointment with a car seat specialist, send us an email or contact us by telephone on 01942 214864.