If you're looking for a simple yet light weight stroller that can easily take you and your newborn from day dot, the Phil & Teds Voyager is the one for you. Phil & Teds are the true innovators of the original inline! Being the only designers that have brought out a 3-wheeler in the market that can take one child, two children of different ages, or even newborn twins: all within the same footprint of a single buggy! And they have now taken this to the next level, by introducing it as a 4-wheel, modular buggy.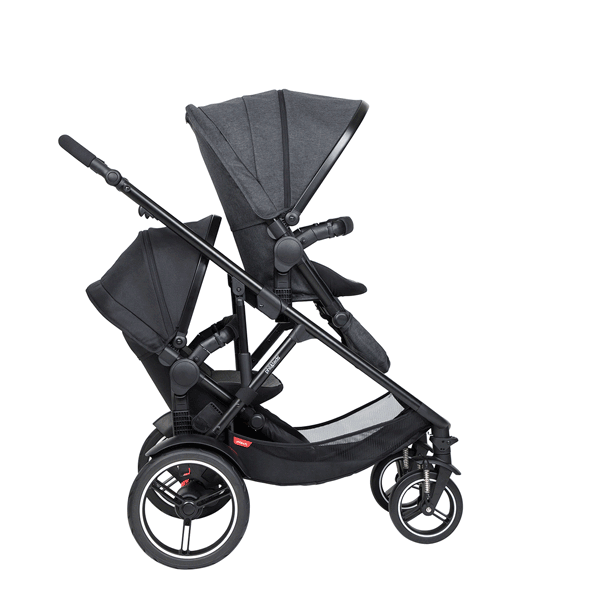 The Voyager is a fantastic and safe investment that'll last, because as your family grows, the voyager will too! This fancy, modular 4-wheeler is going to take you across the urban lifestyle no problem, with all terrain adventures as an option too! The manoeuvrability and handling is a breeze with the added suspension the aero Maxx tyres offers, with no fear of punctures. The stylish modular seat sits on an independent frame design, giving you instant options to forward & rear face your baby, by simply switching the seat around. And with the new wedgie cushion that's now included with the Voyager, the modular seat is newborn ready right out of the box, delivering longevity from the get go! Masterfully engineered, the seat also sits right at the perfect height of the frame to make tackling the kerb on your journey so much easier!
With the freedom to reverse voyager's spacious modular seat, your baby can parent face for extra bonding time, or world face your curious tot, as & when you need! If your little one one gets tired, the seat easily reclines to multiple recline levels with one hand.
With an all-black frame, the voyager provides a modern, sleek look for uptown strolling'. Combined with quality textured black melange fabrics, voyager is beautifully tailored with your choice of a plush cushy ride liner in 8 colourways. Having a colour for everyone, the stroller has endless options including Chilli, Apple, Black, Blush, Butterscotch, Charcoal, Sky & Rust. Your newborn can ride in style, with the addition of a snugcarrycot, or as a travel system with the addition of a compatible car seat and adaptors! The Voyager is such a versatile piece and makes an impressive twin pram that that can take 2 snug carrycots or infant car seat.
The voyager really offers the best parts from phil&teds. It is cleverly designed, with great features that make it really easy to use, from the quick change, 4-in-1 modular seat, to the all-in-one fold, its an all-round winner!
---
---
← Back to the Blog