BABYZEN have recently introduced the innovative and long-awaited YOYO connect to their modern range, and needless to say this is an extremely exciting time for parents with multiple children. YOYO connect is a revolutionary accessory that hooks onto the back of the YOYO2 stroller, transforming it into a double solution that is suitable for both twins and siblings.
Whilst staying on-brand by providing a new compact and convenient product for urban parents, BABYZEN have designed the ultimate accessory that adapts to your new life, ideal for families who already own a YOYO stroller and that are welcoming another child and for those that are new to the BABYZEN brand, looking for an agile and compact double solution to fit in with their busy lifestyles.
HOW DO YOU USE YOYO CONNECT?
Although YOYO connect has been designed to aid families with twins and with siblings with a small age gap, thanks to the versatility of YOYO connect, it can also be used by friends or childminders who already own a YOYO² . Suitable for use from birth to early childhood, YOYO connect will stay in the family for generations and benefits from the same sustainable materials as YOYO2.
There are five functional configuration set up's to choose from; two for twins and three for siblings.
Twin options:

Sibling options:
bassinet and 6+ - designed to keep a newborn closest to the parent, and the older child at the front.
6+ and bassinet - designed to keep the older child nearest to the parent, and a newborn at the front. This option will provide the best visibility of both children.
6+ and car seat – designed to accommodate a 6 month+ child and a newborn.

Tailored to suit your family needs, YOYO connect will help you to adjust to your new life with more than one child.
WHAT MAKES YOYO CONNECT STAND OUT?
Double pushchairs are commonly known to be big and bulky, and often difficult to use when taking a stroll alone. This is where YOYO connect comes in! At only 44cm wide, YOYO connect can fit through almost any door, whilst remaining flexible enough to tackle high curbs and pathways with ease. Like the YOYO2 stroller, this exciting duo can be pushed smoothly with just one hand, even allowing for U-turns if necessary. YOYO connect truly gives 'curb-appeal' a second meaning!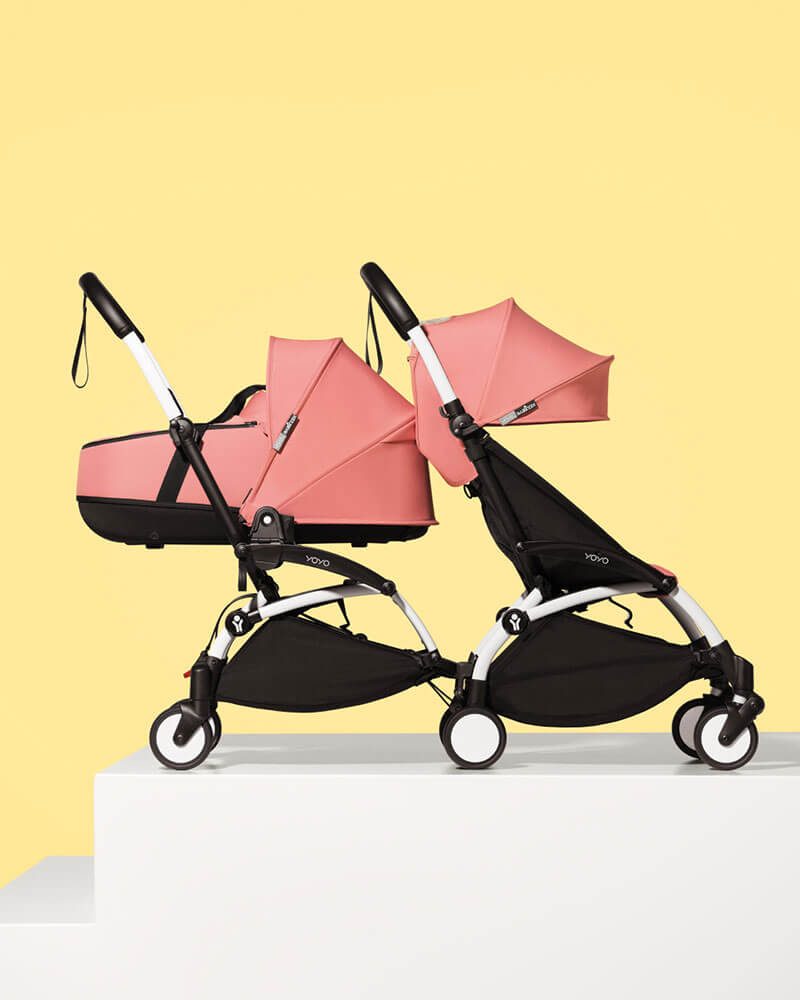 We have all come across several different types of double strollers, many that are side-by-side or classic tandem styles. BABYZEN continue to introduce innovative products to the market and have not let the side down with YOYO connect.
An interesting feature of the YOYO connect is that it does not have front wheels. Designed to allow the two components to move as one, and providing your children with ultimate comfort, without complicating the product. If you would like the option to use the YOYO2 as a single stroller when out and about, simply fold the YOYO connect and hook it onto the back of the stroller in seconds, which is extremely convenient if your older child likes to walk on occasion or if you are dropping them off at nursery.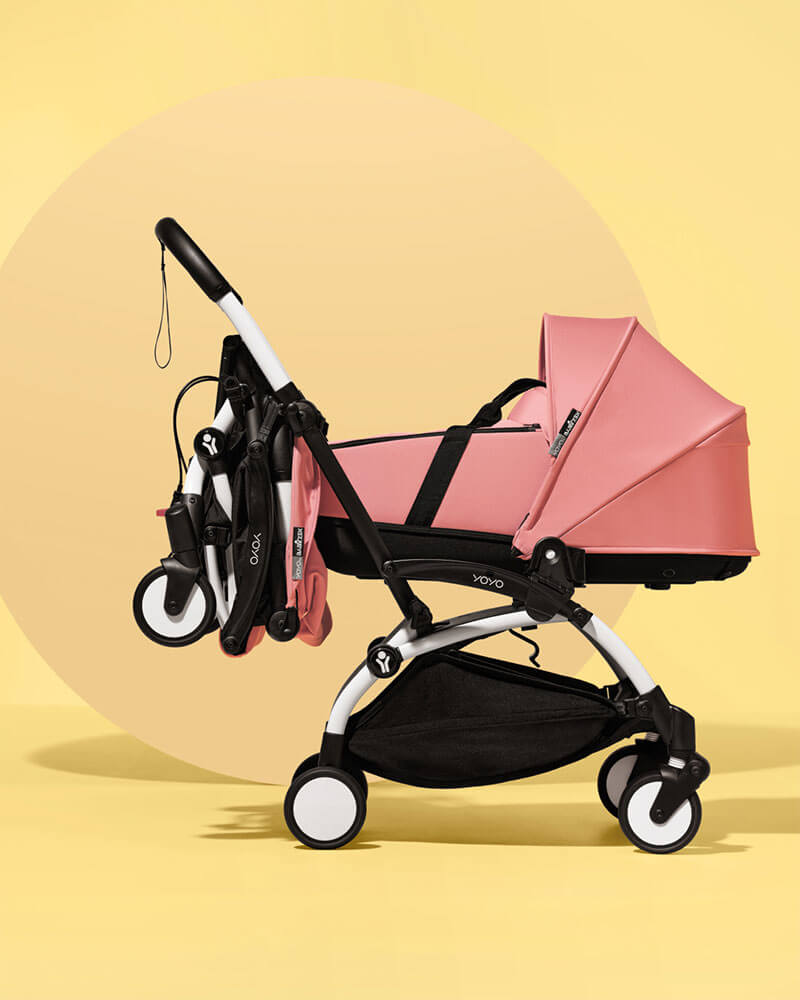 If you are interested in using the YOYO2 and YOYO connect for daily use and for travel, you will be ecstatic to find out that YOYO connect is the only double stroller on the market that once folded, can be used as two cabin luggage items when jetting off abroad. They will also save you immense amounts of space in the boot of the smallest car.
MEASUREMENTS & WEIGHT
In the 6+ set up, the YOYO connect frame weighs 6.2kg (13.6lbs) and 8.1kg (17.8lbs) with the bassinet installed. Together with YOYO², it weighs 12.4kg (27.3lbs).
YOYO connect is only 44cm wide with easy access to both seats
Once folded, YOYO connect measures 52 x 44 x 24 cm on its own
Certified for use up to 22kg (48.5lbs), just like YOYO2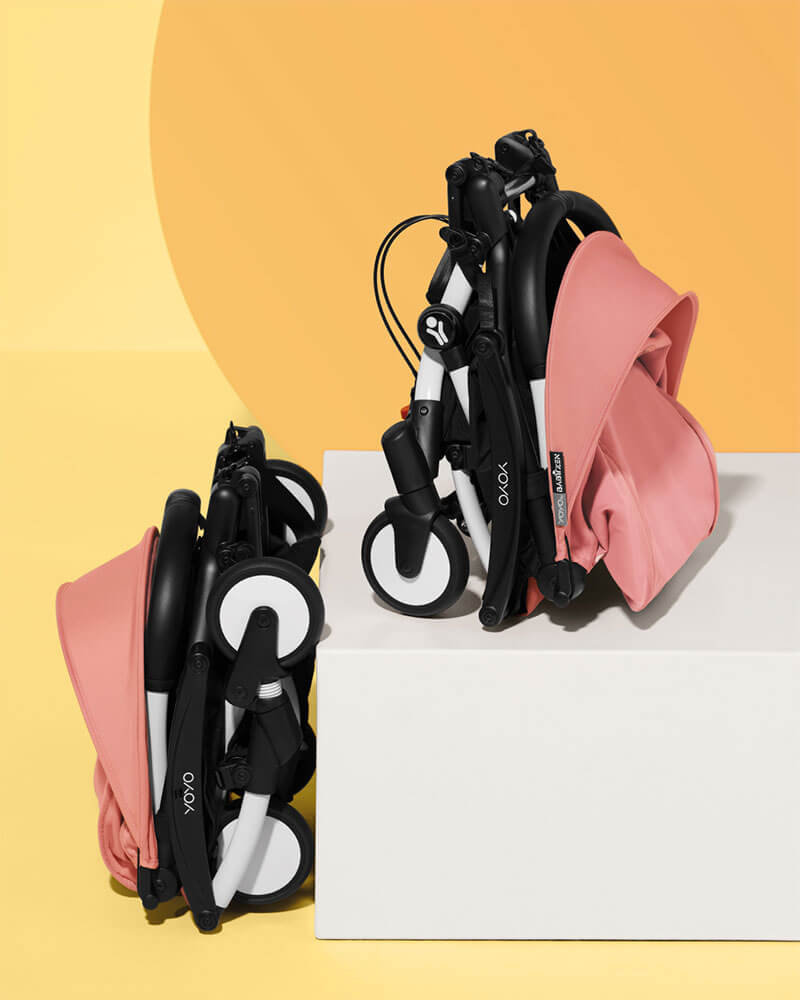 If you are looking for a compact and fuss-free double pushchair that is flexible and customisable, YOYO2 with YOYO connect will not disappoint. Try it for yourself in our store!
---
---
← Back to the Blog