Baby Carrier Mini from Babybjorn is lightweight, easy-to-use and supersoft baby carrier, specially designed for newborns. Like all newborns, your baby requires lots of closeness all day around. Thanks to this carrier you will be able to meet those needs and keep your little one safe and close to you during your daily tasks.
Baby Carrier Mini is equipped with several flexible buckles, allowing you to set it on quickly and comfortably for your body. Thanks to the fully adjustable head and neck support, the baby carrier is easy to adapt to the size of your baby as their growing. The baby carrier gently supports your newborn's back, legs and hips so that they remain in an ergonomic position all the time. Through the delicate material, you can feel your little one's position and the natural C curve of their back with your hands. Once your child reaches 5 months old, you can choose to switch facing-in position for facing-out to encounter the beauty of the world together. The front section of the carrier can be unfasted to lift out your sleeping newborn without any difficulties.
Soft and super breathable 3D Mesh fabric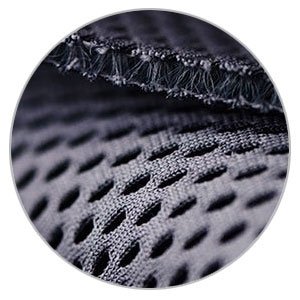 This version of Baby Carrier Mini is made from three-layered mesh fabric, which provides great airflow and is incredibly soft to your newborn's skin.
Features:
Perfect first baby carrier for newborn
Suitable to max. weight of 11kg
Compact and easy to use
Sturdy, adjustable head and neck support
Two carrying positions - facing in or facing out (after 5 months) on your front
Made of triple layered extra soft jersey material
Weight: 0.48 kg
Dimensions: 43.5 x 1 x 57cm
Suitable from newborn to 11 kg
Min. Weight: 3.2kg
Max. Weight: 11kg
Min. age for outward facing: Aprrox. 5 months
Max. weight for outward facing: 11kg
Mainland UK Delivery Options
Orders £50.00 and over - (DPD) 1-2 Working Days - FREE
Orders below £50.00 - (DPD) 1-2 Working Days - £6.95
Orders below £50.00 - (EVRI) 2-3 Working Days - £3.95
The following postcodes are sent on a standard 2-3 day delivery:
IV(All)
KW(ALL)
PA20-PA99
TR21-25
ZE(ALL)
KA27-28
HS1-9
G83
AB30
AB39-AB40
Unfortunately, we are unable to deliver to BFPO numbers.
UK Highlands, Islands and Northern Ireland Delivery Options
All UK Highlands, Islands and Northern Ireland Orders are charged at a flat rate of £8.95 (sent with DPD)
Channel Isles – all orders sent at a flat rate of £19.95
The following postcodes are UK Islands and Ireland:
BT(All)
EI(All)
IM(All)
DPD Predict Service
Never miss a parcel delivery – for orders sent via DPD you will be notified by text and email on the day of despatch and again on the day of delivery offering a one hour time-slot. If you're unavailable during this time you have the option of re-arranging your delivery date, or for your delivery to be left with a neighbour.
Download the DPD Predict app and nominate a specific neighbour, your chosen safe place or collect the parcel from your local DPD pickup shop. Please note that a signature is required for all DPD deliveries.
Direct Deliveries from Supplier
Where a product states direct delivery, this will be fulfilled by the supplier directly from their warehouse. Each supplier has a different delivery service. Please contact our sales team on [email protected] for any queries regarding direct deliveries.
Please note that we can only deliver furniture to mainland UK, excluding the Highlands of Scotland, Islands and Ireland. We are unable to accept orders for International delivery.
International Deliveries
From the 1st January 2021, Winstanleys Pramworld will no longer ship items internationally, However - a number of our customers use parcel forwarding service such as forward 2 me.
Parcel Forwarding Service

For delivery outside the UK, a number of our customers have used forward2me, the top-rated Parcel Forwarding Service. forward2me offers a choice of premium courier services including DHL, UPS, DPD, TNT & Whistl to forward parcels to over 200 countries at very competitive prices.
Other services include a Combine and Repack Service where you can make lots of purchases and ship as one to save on international shipping costs. For more information including independent customer reviews please visit the forward2me website or watch the how it works video.