PRAMS & PUSHCHAIRS BUYING GUIDE
When it comes to choosing your baby's first pushchair, there are hundreds of prams to choose from and as a new parent, it can often be difficult to know where to start. You'll want a pushchair that fits in with your lifestyle as well as being stylish and practical and with such a big decision on your hands, you want to make sure you choose the right option for you and your little one!
We have created the following guide to provide a helping hand and make finding your perfect pushchair that little bit easier.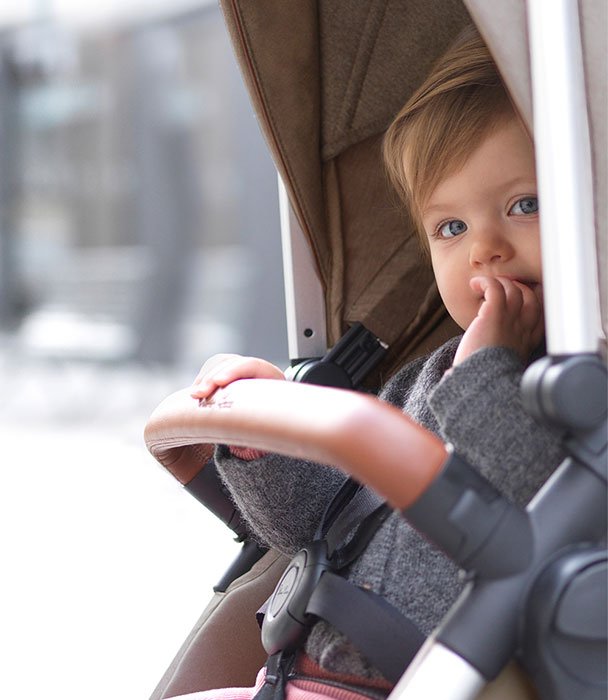 THINGS TO CONSIDER
Think about what features you require for the pushchair to fit into your lifestyle. For example, do you use public transport and need your pushchair to be small and lightweight or do you live in the countryside and need great suspension?
Whether you want to spend £200 or £2000 there is absolutely a pram out there for you. By setting a budget you can refine what you're looking for and give you a good starting point. With that said consider looking at strollers slightly outside your budget as often these can have little extra features which may suit your lifestyle perfectly
Future children? When you're a first time parent, having another baby will seem a million miles away, however studies show that most couples will have a second baby within 24 months of their first which in some circumstances will require a double pram! There are quite a few models on the market that can be bought as a single stroller and later adapted for two children.
Does the pushchair fit into your car? This seems obvious but really think about how your stroller will fit into your car boot. Many prams fold complete with the seat unit but some you'll have to remove the seat unit first before folding the chassis. Other prams have quick release wheels and can be removed easily to be put into the car, but do you really want to have to remove the wheels every time when they could be muddy or wet? Make sure the stroller fits easily and quickly as this is a pram you will use for a long time!
DIFFERENT TYPES OF PUSHCHAIRS
Pram, pushchair, travel system or stroller? All of the different terms can make shopping a minefield so we hope our handy guide can breakdown the differences for you!
| Type | Description |
| --- | --- |
| Baby Prams from Birth | Baby prams from birth are what we would recognise as a traditional pushchair. From birth these prams are parent facing either with a carrycot or lay flat seat unit and from around 6 months old, the pushchair seat can also world face for your little one to explore. Baby prams from birth are usually travel system ready and allow you to put a car seat onto the frame of your pushchair for really convenient travel. |
| Travel System | A travel system is a pram or stroller that includes a car seat as well. The car seat will attach on to the frame of the pushchair and means if you have a sleeping baby, you don't have to disturb baby by taking them out of the car seat – the car seat will simply attach onto the pushchair. Experts recommend that babies should stay in the car seat for no longer than 90 minutes at a time but for short trips, this is the perfect solution. |
| Strollers and Buggies | A stroller is great for families who are looking for a more compact and lightweight option and would usually be used alongside your travel system when your baby gets a little older or for travel. Strollers are typically only forward facing and although there are lots that are suitable from birth some are only suitable from 6 months onwards so be sure to double check before making your purchase! |
| Cabin Approved Strollers | Over the past few years, the pushchair world has been inundated with super compact strollers that can be taken on an aeroplane as hand luggage! This handy features means when you reach your destination, your pushchair can be used right away but as all airlines are different, we would always recommend checking first before you travel! Furthermore because of their compact size these strollers will fit into the smallest car boots. |
| Jogging Strollers/Three Wheelers | Designed for active lifestyles, three wheeled strollers are great for people who love being outdoors and work amazingly well on rough terrain. The next stage in three wheelers are Jogging strollers that are certified for jogging usually have a fixed front wheel to make sure your pushchair is stable whilst running and the air tyres offer great suspension too! |
| Duos, Twins and Triplets | As mentioned earlier, most couples will have their second child within 24 months of the first baby so you may want to choose a future proof pushchair that can easily convert from a single to a double ready for your next arrival. If you find yourself lucky enough to be pregnant with twins or even triplets, there are lots of options available for your family too! |
THINK ABOUT ACCESSORIES
We can spend so long choosing our perfect pushchair that sometimes accessories are overlooked yet they can often make daily life with your new arrival so much easier! Here are the accessories that we think are an absolute must…
WHY BUY YOUR PUSHCHAIR FROM WINSTANLEYS PRAMWORLD
As a family business established in 1957, we have been dedicated for over 60 years to providing the best quality products at amazing prices and we pride our self on excellent customer service. Whether you visit us online or in store, you will be able to shop all of your favourite brands and our friendly and knowledgeable team will always provide honest and impartial advice to make sure you choose the products that are right for you and your family.