We were incredibly lucky to be gifted a Joolz Aer stroller. The Joolz Aer has a renowned reputation as an award winning, compact, folding pram suitable for travel. With such a great reputation, we were really excited to test it out with our daughter Nancy.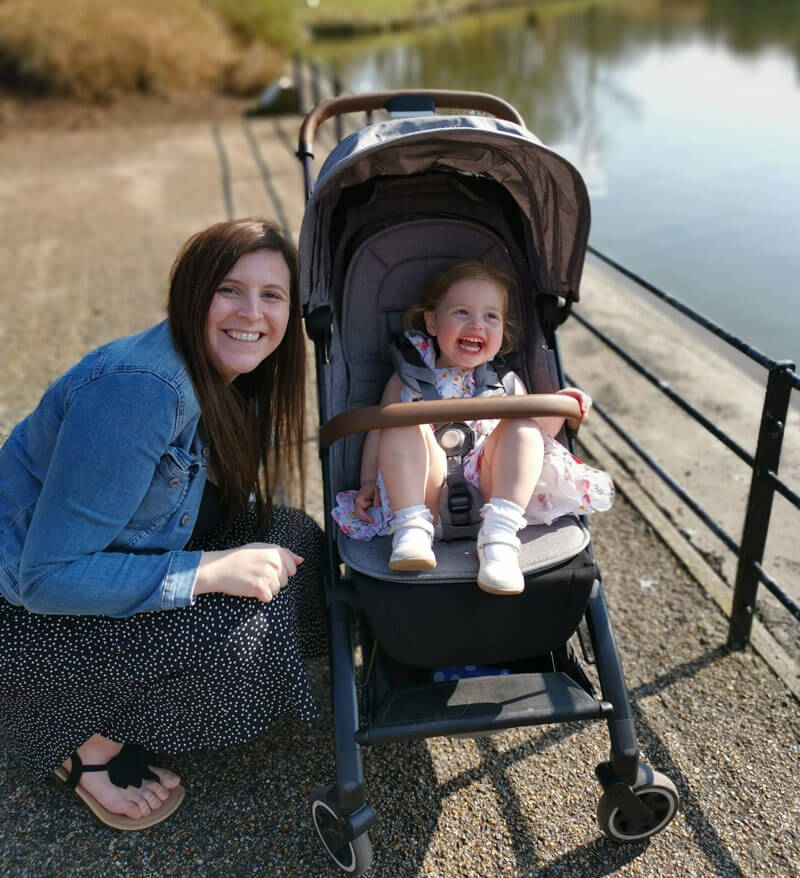 Right from the off the Joolz Aer exudes quality. One of the first things you notice when removing from the box, is the soft leatherette handle and plush fabrics that complement each other no matter which colour way you choose (we opted for the Delightful Grey). We found that the fabrics are durable and easily cleaned especially when dealing with the mucky hands and muddy wellies of a two-year-old!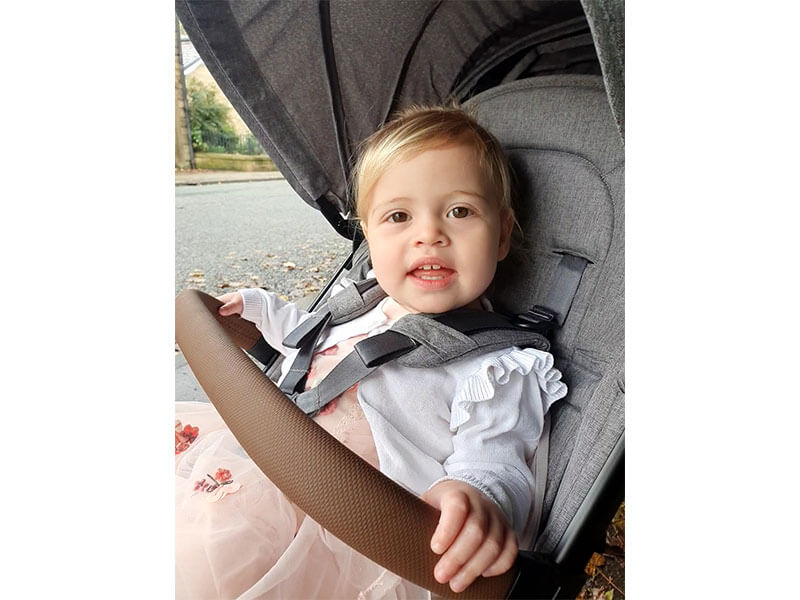 The extendable hood provides extra coverage from the elements, with additional ventilation integrated within the hood, to keep little one cool in the warmer months.
The seat is a generous size which allows an inquisitive toddler plenty of room for movement and relaxation during day trips. It is suitable from 6 months up to a maximum of 22kgs, with an easily reclinable back rest via a zip to the rear of the pram.
We found that the five-point harness was one of the easiest we have used compared to other products. It can be easily adjusted with one hand which is great when dealing with a very wriggly toddler! Releasing little one from the pram is a simple one touch operation which releases all harness straps at once. The harness height is also easily changed to accommodate a growing child.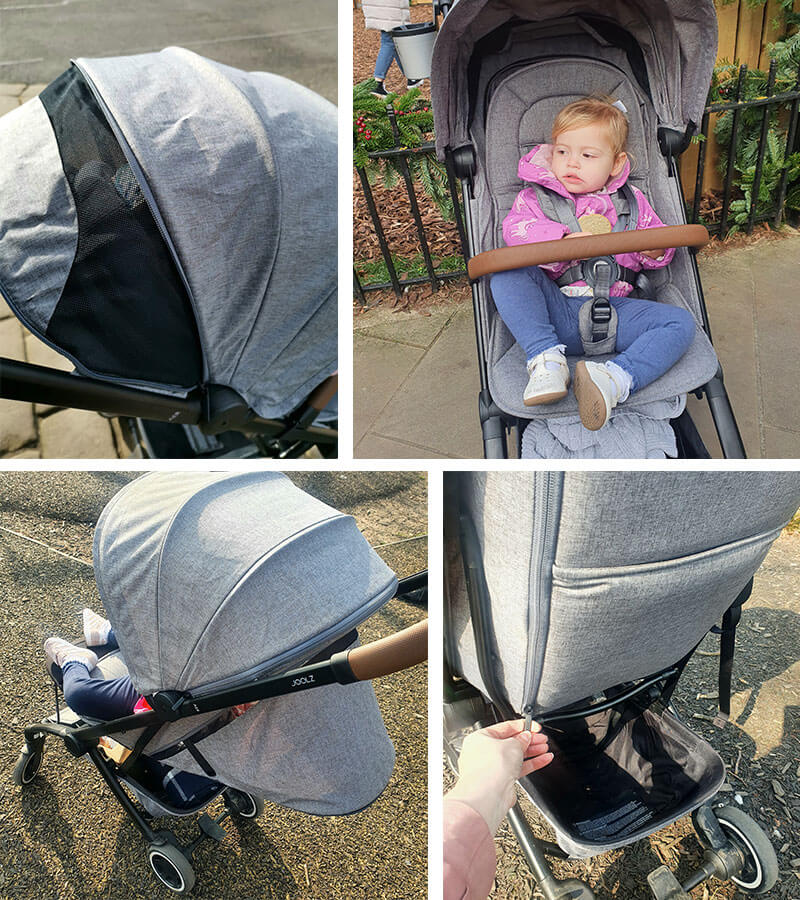 The Joolz Aer is very light, weighing just 6kgs and handles comfortably when in motion. The buggy really does feel lightweight even with a passenger on board, I found myself more than confident to push the pram with one hand for most of the time. The pram also includes 4-wheel suspension which was a nice surprise for a compact stroller and enables use over a variety of terrain.
The Aer is also practical, with a large basket (capacity 5kg) not found in many lightweight prams. This means it's as suited for a trip to the shops as much as a walk around the park.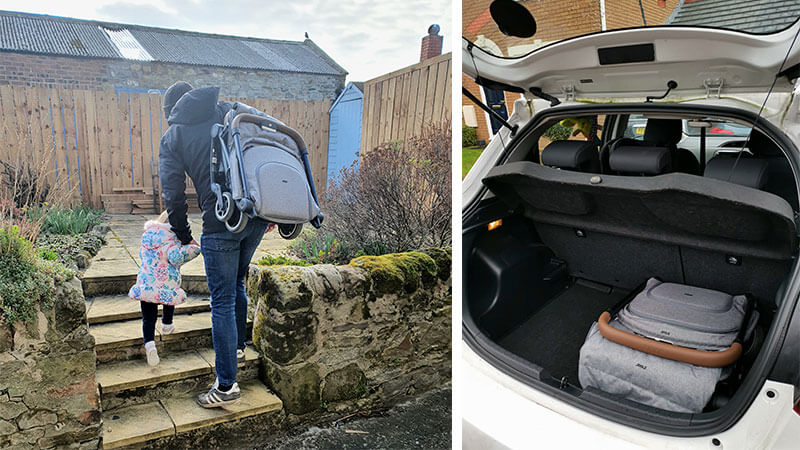 The pram is collapsed by using the palm button on the main handle and is quick and easy fold with one hand. I often find myself folding it down in coffee shops and restaurants, as it is so simple to do and the compact size it folds down to means it can be nicely tucked away. The Aer also includes a shoulder strap which allows the pram to be easily lifted and carried when required. The pram is unfolded just as easily in one simple vertical motion using the same button on the main handle.
The prams compact size means it is a cabin approved stroller but also that it occupies a minimal amount of space within a car boot, leaving lots more room for all your toddler necessities. We found this extremely helpful on our recent city break.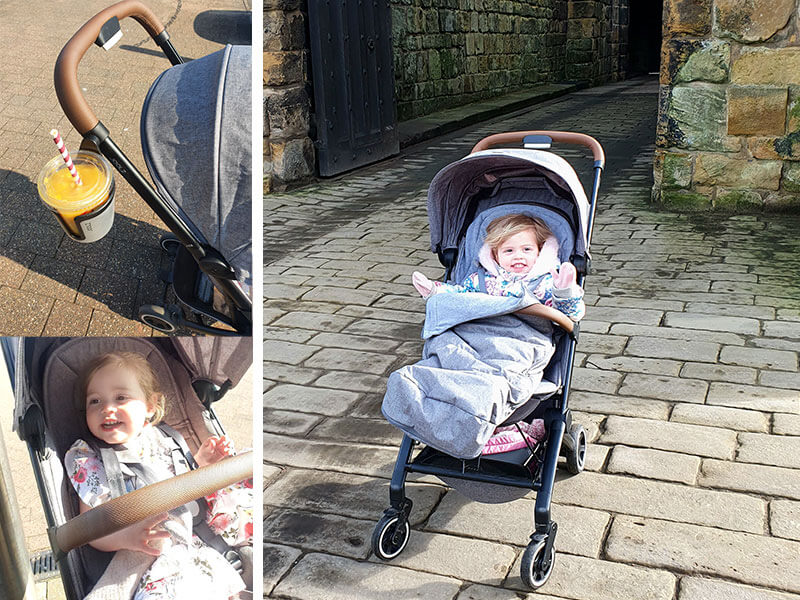 Joolz have a wide range of accessories which allow you to customise the pram to your specific requirements. We use the cup holder, bumper bar, leg rest and footmuff, but they also have a compact cot, comfort cover, Mosquito net, seat liner and Footboard.
We find that Nancy like most toddlers often prefers playing with boxes far more than its contents! In line with Joolz environmental considerations the box is cleverly marked up to become an Aeroplane. Nancy had lots of fun playing with it!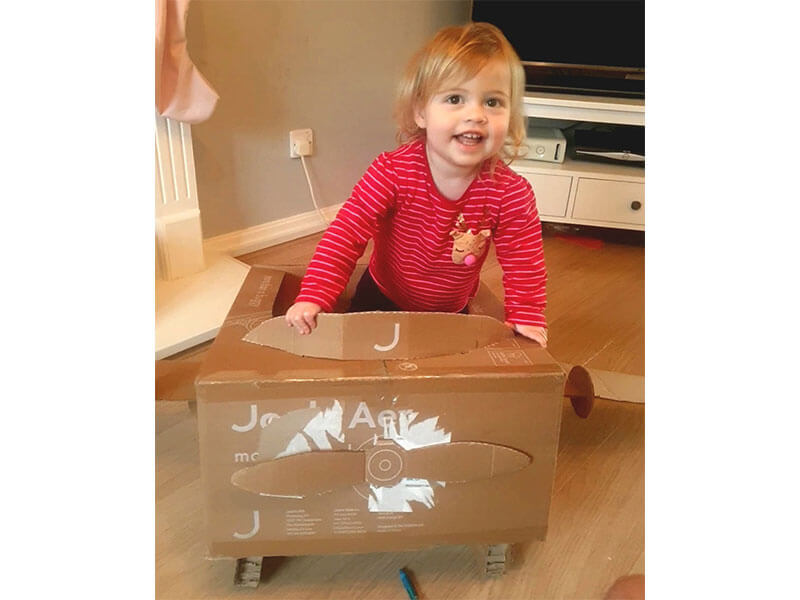 Overall, we have found that this stroller is not only a great compact travel stroller but a fantastic everyday stroller, it really has been a must have on any day trip/city break, as well as nipping to the local coffee shop or nursery pick-ups. Having a very independent 2 year old, often means struggling to get her to sit down, let alone fasten into a stroller, but Nancy genuinely loves and wants to go into her Joolz Aer, I think this is due not only the comfortable and spacious seat but how well it handles on terrain. The Joolz Aer really is well designed and quality pram that you and your family can rely on.
---
---
← Back to the Blog