Jane Ikonic with its 360-degree rotary seat can be installed in rearward facing position from birth up to 105 cm in height and a maximum weight of 18kg. The opportunity of front-facing position is available after your little one reach 76cm height (approx. 15 months). A specially cushioned newborn insert provides a more comfortable ride for babies from 40 to 60 cm and offering improved safety level in the event of a side impact. Ikonic meets and exceeds the higher crash testing requirements in accordance with the R129 i-Size standard.
This well-designed car seat has been equipped with a five-point safety harness and an integrated headrest and shoulder strap height adjustment system. For better comfort of the child during longer journeys, Ikonic offers a range of 4 recline positions in both facing modes - from sitting to a comfortable lying position during sleep. The rotating chair is also an extraordinary convenience for parents in the matter of inserting and pulling their children out of the car seat. Isofix connectors and support leg allows you to attach the seat incorrectly in your car. Built-in safety indicators prevent any installation errors that could affect safety.
360-degree rotation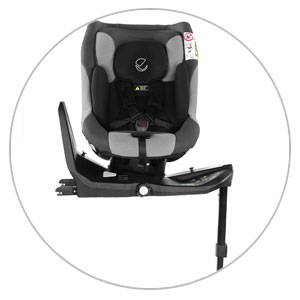 To increase the comfort of parents, the seat can be rotated by 360º for a comfortable insertion of the child. You can rotate the Ikonic seat unit with only one hand.
---
Two way ride modes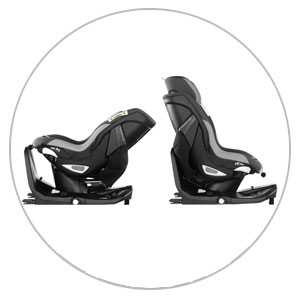 Ikonic offering a two-way way of transporting children in the car. From 40 to 105 cm rear-facing, or from 15 months to 105 cm with the front-facing option.
---
Newborn cushion insert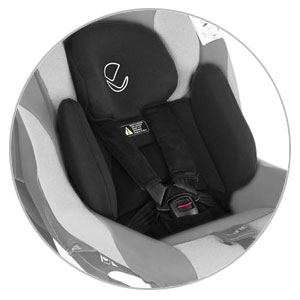 New 40-60 cm cushion insert included, for newborns, which improves the resting angle and increases safety in the event of side impact. Easily removed for washing or when baby out grows it.
---
Easy installation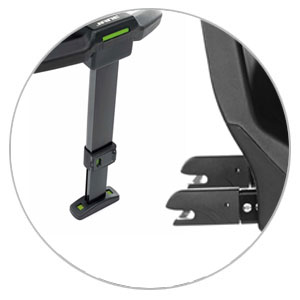 With ISOFIX system and support leg you can install the car seat without any problems. The green safety indicators will convince you that the car seat has been correctly fitted.
Features:
Rearward facing for children of 40 to 105cm tall and with a maximum weight of 18kg (birth to 4 years approx.)
Forward facing for children of 76 to 105cm tall and with a maximum weight of 18kg (15 months to 4 years approx.)
Includes cushion insert for children from 40-60 cm
Easy 360° rotating seat unit
Meets and exceeds R129 i-Size safety standard
4 reclining positions in both the rearward and forward facing modes
Ventilated seat unit covered with impact absorbing materials
Integrated 5-point harness with one pull adjustment
Includes Isofix connectors and anti-rotation support leg
Built-in safety indicators to avoid installation errors
Removable and washable upholstery
Dimensions: L78 x W44 x H119.5 cm
Weight: 15 kg
Jané has one of the most advanced specialist testing laboratories in the world, which enables them to rigorously examining all products to guarantee maximum safety for your children.
Jané products come with 2 years warranty against material or manufacturing defects valid from the date of purchase. This guarantee is offered in addition to and does not affect customer's statutory rights. Keep your receipt as proof of purchase, as it is essential to make a claim.