Suitable from birth up to 12 years
The Jane Groowy i-Size + Nest i-Size Car Seat is a unique combination of two seats, which will be an excellent child transport solution for from birth up to 12 years. In the newborn stage, the Nest carrier can be installed inside the Jane Groovy shell providing excellent protection for babies from 45 up to 65 cm (approx. 12 months). The innovative design of this baby carrier offers the ideal, healthy and safe lying position, whih helps the newborn baby's breathing and encourages optimal development of the vertebral spine.
---
Travel system opportunity
Except the combination with the Groowy, the Nest i-Size Car Seat carrier can be use separately or as a part of excellently matched Jane travel system. It's universal construction ideally fits Jane pushchair frames as well as other brands buggies with Maxi-Cosi or Multi Car Seat fixing points, thanks to Pro-Fix attachment system. The Nest weights only 2kg, which makes it the lightest i-Size car seat on the market. Despite the lightweight the Nest still features all benefits of contemporary infant acarrier like 4 position fixed headrest, safety harness with one-pull adjustment, extendable UPF 50+ sun canopy and rocking base. Padded eco leather handle assures parents with a sure grip for convienient transportation.
---
Extended rear facing mode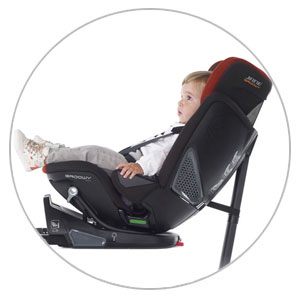 After your little one grows off from the carrier, the Jane Groowy i-Size will continue the safe and comfortable rear-facing ride up to 105 cm (approx. 4 years). Five positions recline range from straight sitting to lying will be a very useful feature during long travels.
---
Easily converts as your little one is growing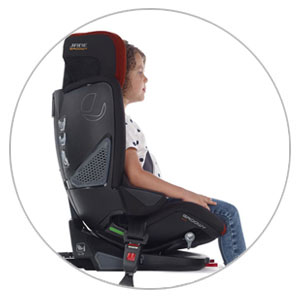 Jane Groowy i-Size is equipped with a 180º rotation safety adjuster, which allows you to convert the seat position from rear to front-facing mode. You can do it as your child archives 100 cm (approx 3 years old) however, according to safety reasons is recommended to keep your child in rearward position as long as possible.
---
Excellent protection in case of impact
Jane Groowy guarantees high-security level as it met strict crash testing requirements following the i-Size ECE R129/03 safety standard. Its strong shell ensures excellent rear and side protection of your little passenger in the case of collision. Built-in air ventilation system on the sides, backrest and base will help to regulate the child's temperature and disperse moisture.
---
Easy one pull adjustment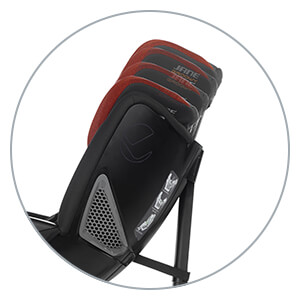 Single synchronised adjustment allows you to adapt the headrest and 5-point safety harness to your child with just one hand. The Groowy features 5 positions adjustable headrest when used with the seat harness and 3 additional ones after detaching the harness.
---
Reversible cushion insert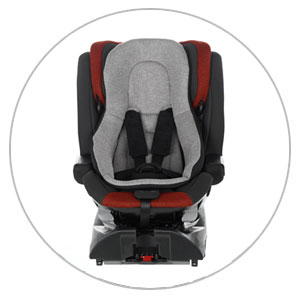 A reversible soft padded insert offers better suited and more comfortable sitting for smaller babies. It improves the resting angle and increases safety in the event of a side impact. Easily removed for washing as the rest of Groowy upholstery.
---
Easy installation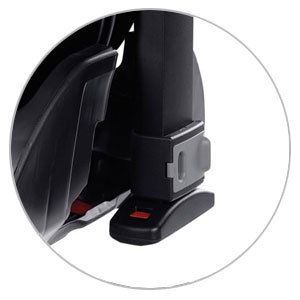 With ISOFIX system and support leg you can install the car seat without any problems. The green safety indicators will convince you that the car seat has been correctly fitted.
Jane Groowy features:
Rearward facing for children of 60 to 105cm tall and with a maximum weight of 18kg (approx. 9 months up to 4 years)
Forward facing for children of 100 to 150cm tall and with a maximum weight of 36kg (approx. 3 - 12 years)
Easy 180° rotation safety adjuster to switch between facing positions
Meets i-Size ECE R129/03 safety standard
Five reclining positions in both the rearward and forward facing modes
Includes revesible insert to increase sitting comfort for smaller toddlers
Durable shell with built-in air vents
Side protection in case of impact
Integrated 5-point harness
Adjustable headrest height (8 positions)
Single synchronised harness and headres one hand adjustment
Includes Isofix connectors with anti-rotation support leg
Built-in safety indicators to avoid installation errors
Removable and washable upholstery
Jane Nest features:
Suitable from 45 - 65 cm in height (birth up to 12 months approx.)
The lightest i-Size car seat on the market (only 2 kg)
Side impact protection shell
Fixed headrest - 4 positions fixed headrest
Safety harness with one-pull adjustment
Extendable UPF 50+ sun canopy
Rocking base
Padded eco leather carry handle
Can be used individually, installed inside the Groovy or onto puchschair chassis
Compatible with Jane and other pushchair brands with Maxi-Cosi or Multi Car Seat fixing points
Jane Groowy specification:
Dimensions: L70 x W44 x H55 cm (in lower position)
Weight: 15 kg
Jane Nest specification:
Dimensions: L60 x W44 x H58 cm
Weight: 2 kg
Jané has one of the most advanced specialist testing laboratories in the world, which enables them to rigorously examining all products to guarantee maximum safety for your children.
Jané products come with 2 years warranty against material or manufacturing defects valid from the date of purchase. This guarantee is offered in addition to and does not affect customer's statutory rights. Keep your receipt as proof of purchase, as it is essential to make a claim.