The first electric stroller from Cybex, the e-Priam is embodied in technology and luxury and is an exceptional 4-in-1 travel solution from Cybex, which is compatible with the Lux Carrycot (included), Lite Carrycot and Cybex Infant car seats (both sold separately) using only one frame to make life on the go with your child easier.
Lux Carrycot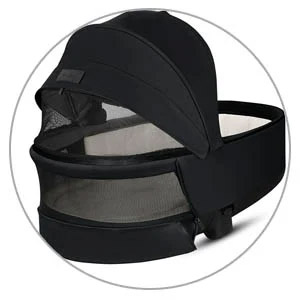 The spacious Lux Carrycot will provide an enormously snug space for your little one when out and about. It includes a breathable mattress and 100% cotton interior padding for optimal comfort, two different mesh windows for improved air circulation and views and a UPF50+ sun canopy with extendable visor. The integrated carry handle allows you to easily carry the carrycot and you can use the memory buttons to click it on and off in a flash.
---
Battery Powered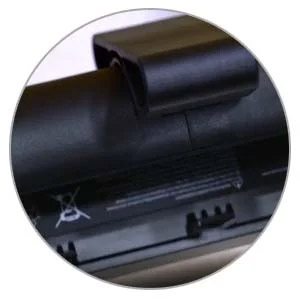 The Lithium-ion battery provides the Cybex e-Priam with a range of 8-45km (approx.) depending on the travelling conditions. With a maximum charge time of six hours, the battery can easily be charged using the cable provided or by detaching and there is a charge status LED indicator in the rear axle for easy checking.
---
Smart Uphill and Downhill Assist
The integrated handlebar sensors recognise uphill pushing pressure and downhill pulling pressure and adapt the support accordingly for an effortless journey.
---
Rough Surface Support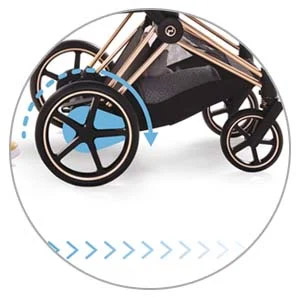 The e-Priam tackles any terrain with ease to offer smooth and comfortable off-road adventures for both you and your little one.
---
Engines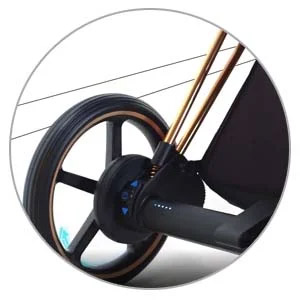 The two electric engines provide the e-Priam with additional powered support and are quiet to ensure baby has peace and quiet for a restful journey.
---
Features:
Suitable from birth to 22kg
Includes choice of chassis, Seat Pack and Lux Carrycot
Compatible with Lux Carrycot (included), Lite Carrycot and Cybex Infant Car Seats (both sold separately)
Lux Carrycot includes a breathable mattress, 100% cotton interior padding, two different mesh windows for improved air circulation and views, UPF50+ sun canopy with extendable visor, integrated carry handle and memory buttons
Support for uphill, downhill and uneven surfaces
Support available for slopes up to 14° approximately
Lithium-ion battery powered – maximum charge time: 6 hours
Handlebar sensors identify pushing and pulling
Two electric engines for additional support if required
Versatile seat unit that can be used forward or parent facing
Highly positioned seat unit perfect for sitting at the table
Memory buttons mean seat can easily be clicked on and off
Height-adjustable leather-look handlebar
Padded harness for additional comfort
Full-suspension for a smoother ride
Two-wheel mode for improved manoeuvrability on a variety of surfaces
One-hand multi-position recline including lie-flat
Adjustable three-position leg rest
One-hand free-standing fold for compact, easy storage and transportation
Includes comfortable seat inlay
XXL extendable sun canopy with UVP50+ sun protection and wind shelter
Extra large shopping basket with 5kg capacity
Raincover
Includes battery, charger, adaptors for infant car seat, raincover and shopping basket
Please note: The battery run time depends on external conditions (e.g. surface characteristics, temperature, incline) and load (e.g. child weight, basket load).
Fair conditions: 28 miles (approx.)
Difficult conditions: 12.4 miles (approx.)
Extreme conditions: 5 miles (approx.)
The run time is determined by usage, external influences and battery condition and the battery capacity decreases with age and usage.
e-Priam Pushchair:
Folded dimensions: L 950 mm / W 600 mm / H 400 mm
Folded dimensions most compact: L 800mm / W 510mm / H 210mm
Weight: 10.6 kg
Lux Carrycot:
Dimensions: L 860 / W 460 / H 620mm (incl. canopy)
Weight: 4.9kg
Cybex products are covered under a manufacturer's warranty period of 2 years. This covers you for any manufacturing faults that may occur during this period. Please note: Cybex warranty begins not on the date of purchase, but on the date of the installation.